New Progresive Education Trust – IGNOU Study Centre & the Code New Progresive Education Trust is 0909 of the is the List of Learner Support Centres and Programmes on Details of Active Learner Support Centres (LSCs) as on 26th November 2019.
In this article, I am going to explain everything you need to know about IGNOU Ahmedabad Regional Center & Study Center and why they are necessary.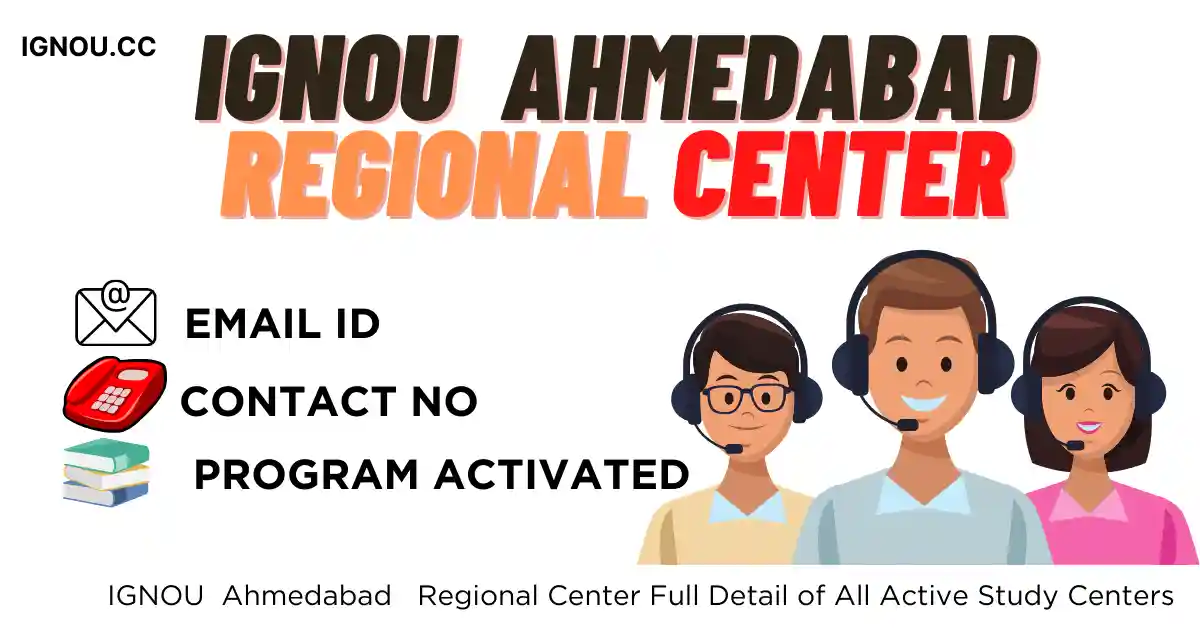 The Ahmedabad regional center & Study Center helps students in many ways.
Centre Name
Tripura University
Centre Code
0909
Address
Above Homeopathy College, Mehsana-384002
Coordinator/PIC Name
DR. S. D. JOSHI
Contact No. Phone
(02762)223883
Official Email ID
[email protected]
No of Part Time Academic Staff
(Coordinator/ PIC/Asst )
3
No of Part Time Non Academic Staff
(Asst/Attendant etc)
7
Official Site
http://rcahmedabad.ignou.ac.in/
Our Website
ignou.cc
Working Days and Timings
Friday, Saturday & Monday: 5:00 PM to 9:00 PM
Sunday: 8:00 AM to 4:00 PM
Download PDF List
Click Here
The Ahmedabad Regional Center of IGNOU can be used for a variety of activities
Each regional center provides all types of help to IGNOU students enrolled in any program.
All the regional centers have coordinators who work with those study centers where IGNOU classes are taught.
First of all, if any student needs help, he or she contacts the study center first, but if the problem cannot be resolved, the student connects with the regional center where all this issue is resolved,
which is why the regional center is highly needed in every area.
IGNOU Ahmedabad Regional Center New Progresive Education Trust- IGNOU Study Centre Offered a Programs :
MP, MPB, MCA, MARD, MTTM, MCOM,
MHD, MPA, MSW, BCA, BAG, BAECH,
BAHIH, BAPSH, BAPAH, BASOH BCOMG,
BTS, BSW, PGDRD, DTS, DNHE, DECE,
CIG, CNCC, CES, , CFN, CRD, CDM,
CTPM, CTS, CIT
Thanks For Reading This Article I Hope You Like The post & If You Like the Post Then Must have The article On Your Study Center Friend.
Admission in New Progresive Education Trust 2022 -2023 Ahmedabad university
Admission to New Progresive Education Trust is conducted online. Eligible Students are shortlisted on the basis of merit secured in the qualifying exam., admission is based on the exam. 
College offering admission in fields of Arts, Science, Commerce, and Social Sciences has located ,,, and affiliated With ahmedabad university, the college provides a dynamic and empowering educational environment for young women with excellent & holistic education at the undergraduate, postgraduate levels.
New Progresive Education Trust Scholarships 2022- 2023
There are national scholarships available to the students of SC/ST/OBC categories which covers the entire fee structure
.Under the Central sponsored scholarship, post matric and merit cum means scholarships are provided to the minority students for technical and professional courses.
FAQ
Question :What are the documents required at the time of admission to College?
Ans. The following documents are required at the time of admission to New Progresive Education Trust:
Marksheets of Class 10th and 12th
Bachelor or Master's mark sheet for higher studies
Character Certificate
Transfer Certificate
Migration Certificate
Character Certificate
Caste Certificate
Admission form of University
Question : Are there any scholarship programs at New Progresive Education Trust College ?
Ans. Yes. The college provides scholarships to students on the basis of merit, sportsmanship, and economic background.
Question : What is Code of New Progresive Education Trust Code IGNOU
Amswer: 0909