IGNOU BAEGH Study Material / Books In English Medium : Indian National Open University (IGNOU) provides learners with learning materials in both printed form and digital format. A 15% discount will be offered to candidates who choose soft copies of their materials.
For example, printed materials will be sent to the student's registered address by regular mail or delivery by express delivery.
IGNOU BAEGH Study Material English  Medium
Through the IGNOU E-Content Application, the University offers candidates the ability to apply quickly for the IGNOU BAEGH Study Material. It is also available in the Google Play Store.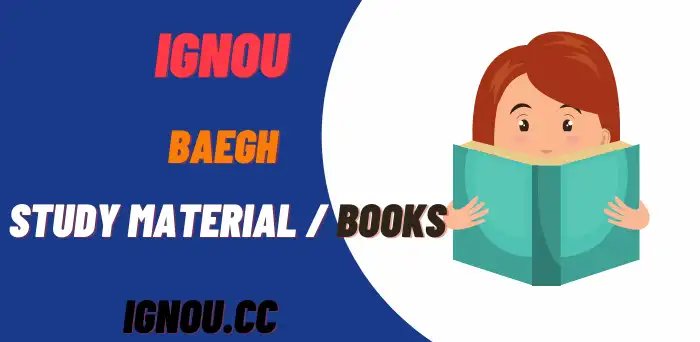 LIST OF IGNOU BAEGH Study Material
Compulsory Courses
Course Code
Name of Course
Download
BEGC 101
Indian Classical Literature
Click Here
BEGC 102
European Classical Literature
Click Here
BEVAE 181
Environment Studies
Click Here
BEGC 103
Indian Writing in English
Click Here
BEGC 104
British Poetry and Drama: 14th- 17th Centuries
Click Here
BEGAE 182
English Communication Skills
Click Here
Optional Courses
Course Code
Name of Course
BPCG 172
Youth, Gender and Identity
Click Here
BPAG 172
Disaster Management
Click Here
BEGG 172
Language and Linguistics
Click Here
BGDG 172
Gender Studies
Click Here
BEGC 105
AMERICAN LITERATURE
Click Here
BEGC 106
POPULAR LITERATURE
Click Here
BEGC 107
BRITISH POETRY AND DRAMA: 17th AND 18th CENTURIES
Click Here
BEGC 108
BRITISH LITERATURE: 18th CENTURY
Click Here
BEGC 109
BRITISH ROMANTIC LITERATURE
Click Here
BEGC 110
BRITISH LITERATURE 19th CENTURY
Click Here
BEGC 111
WOMEN'S WRITING
Click Here
BEGC 112
BRITISH LITERATURE: EARLY 20th CENTURY
Click Here
BEGC 113
MODERN EUROPEAN DRAMA
Click Here
BEGC 114
POSTCOLONIAL LITERATURE
Click Here
(DISCIPLINE SPECIFIC)
BEGE 141
UNDERSTANDING PROSE
Click Here
BEGE 142
UNDERSTANDING DRAMA
Click Here
BEGE 143
UNDERSTANDING POETRY
Click Here
BEGE 144
UNDERSTANDING THE NOVEL
Click Here
How Can Candidates Click Here The IGNOU BAEGH Study Material & Books ?
By visiting the official website, you can download the study material.
Select the "Division" link under "ABOUT IGNOU".
The available divisions will now appear on the screen.
Next, select "Material Production & Distribution Division (MPDD)".
Select the "Study Materials" option.
Therefore, both academic sessions will be reflected on the screen.
Enrolment in a session is possible.
Candidates will have access to a login window to check the status of their shipments.
In the blank space, enter the details of your enrolment number.
Thus forth, they should select the Submit option.
IGNOU BAEGH Study Material / Books