IGNOU BASOH Study Material & Book English & Hindi Medium : Indian National Open University (IGNOU) provides learners with learning materials in both printed form and digital format. A 15% discount will be offered to candidates who choose soft copies of their materials.
For example, printed materials will be sent to the student's registered address by regular mail or delivery by express delivery.
The Study Material of IGNOU BASOH Students is free of cost. We didn't charge anything for the study material/books. Candidates must note that there's also no registration needed for downloading the study material.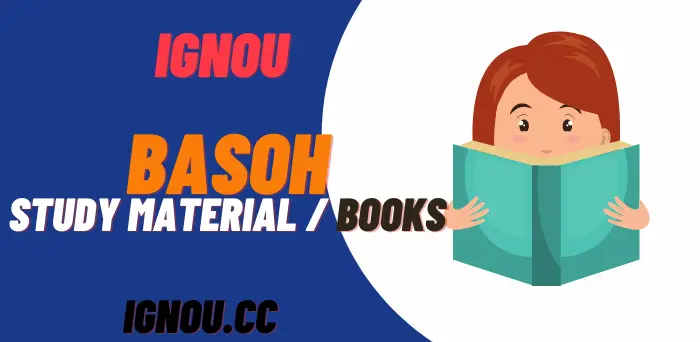 IGNOU BASOH Study Material Download List:
BSOC 101
Introduction to Sociology I   
समाजशास्त्र का परिचय
Click Here
BSOC 102
Sociology of India – I               
भारतीय समाजशास्त्र-1
Click Here
BEVAE 181
Environmental Studies             
    पर्यावरण अध्ययन पर क्षमता वर्धक
Click Here
BPAG 171
Disaster Management         
  आपदा प्रबंधन
Click Here
BSOC 103
Introduction to Sociology II       
 समाजशास्त्र का परिचय
Click Here
BSOC 104
Sociology of India – II
भारत का समाजशास्त्र-II
Click Here
BGDG 172
Gender Sensitization: Society and Culture
  जेंडर संवेदीकरण- संस्कृति, समाज और परिवर्तन
Click Here
BSOC 105
Political Sociology
Click Here
BSOC 106
Sociology of Religion
Click Here
BSOC 107
Sociology of Gender
Click Here
BSOC 108
Economic Sociology
Click Here
BSOC 109
Sociology of Kinship
Click Here
BSOC 110
Social Stratification
Click Here
BSOC 111
Sociological Thinkers -I
Click Here
BSOC 112
Sociological Research Methods -I
Click Here
BSOC 113
Sociological Thinkers -II
Click Here
BSOC 114
Sociological Research Methods -II
Click Here
IGNOU BASOH Important Note
BSOC 114 Students have to read text clearly and deeply.
All Candidate Make Notes While Studing the Books.
Candidate practice for your writing
Complete Syllabus As Soon As Possible
Read BSOC 114 Previous Year Papers
How Can Candidates Download The IGNOU BASOH Study Material & Book ?
Type on the Google : IGNOU BPACH 114 Study Material / Ignou.cc
Click on the Link
Search Your Study Material
Click on the Download link.
Save the Study Material
Is It Necessary To Download IGNOU BASOH Books ?
Yes it is necessary to Download the BASOH Books , Because submit the IGNOU BASOH Assignments to the regional centre of IGNOU. Without the assignments, candidates won't be allowed to sit for the examination. So, for this students needs to first download their assignments, complete them and then submit it to the regional centre of IGNOU.
You can get good marks in your BASOH [Bachelor of Arts Sociology (BASOH)] Programme in the TEE with good grades.
Stay Tunes for More-Click Here